There is arguable no other sector boasting endless opportunities and possibilities than agriculture despite the continual spread of a global pandemic. Agriculture accounts for about 54% of Africa's labor force, with food creation claiming the balk of that figure with farming. COVID-19 is disrupting some activities in agriculture and supply chains. reports show that the non-availability of migrant labor is interrupting some harvesting activities, there are disruptions in supply chains because of transportation problems and other issues. Food Availability has declined, yet consumers are often paying more. News reports show that the closure of hotels, restaurants, and shops during the lockdown is already depressing food sales. We know that the virus will eventually retreat, but we no idea how fast this will happen. Meanwhile, the question to ask is what is Africa doing to emerge strong post-COVID-19? How can agriculture be targeted to regrow, stabilize, and sustain the economy, thereby self-feed, grow, sustain, and ultimately end poverty in Africa post-COVID- 19?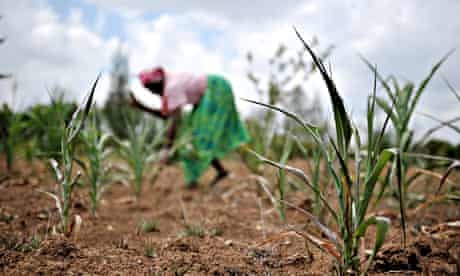 The Agrikore risk journal delves into conversations and topical issues with the intent to re-navigate the shudders of Africa on Agric and utilize the many possibilities in the sector to postulate viable solutions.
Read Also – Before the Rice gets to Your Plate, Garuba Has driven Miles to get it to you
The food supply chain is a complex web that involves producers, consumers, agricultural inputs, processing and storage, transportation and marketing, etc. As the virus spreads and cases mount, Job security and food availability are two major cause for concerns, there are countless ways the food systems at all levels will be tested and strained in the coming weeks and months. Shortages of labor could disrupt the production and processing of food, notably for labor-intensive industries. To keep and spur hope alive, it is imperative/ essential to avoid disruptions to the food supply chain and food production. Africa is urged to keep her domestic food supply value chains alive and functioning, maintaining open trade whilst taking measures that protect their food supply chain, focus on the needs of the most vulnerable at times like this, and scale-up agro protection and educative programs, More people need to know about agriculture and how its not just planting seeds in a farm.
In all the above, food security and employment for our teeming youth stick out. Various career paths abound in the Agric sector where many can plugin, from downscale production to logistics and processing of farm produce to consumer goods, packaging, retailing and warehousing to the provision of financial services, and more.
Read Also –  Care and Commitment Like Father, Like Child
In this edition, you will find out how smart farming is already transforming and informing the best farm practices across Africa. In yesteryears, monitoring and managing soil and crop conditions without the help of technology had proven next to impossible, leading to overuse of pesticides which in turn rendered many crops hazardous to the populace and unsellable. Local farmers are now using weather predictors and soil sensors to inform practices, eliminate wastages, and manage harvests adequately. Find out why Investors, Loan providers, and financial opportunities from banks abound towards agro-prenuers and practitioners and how you can take advantage of such opportunities to upscale and expand business practices. Youths should take the initiative to plug into various vocations in the sector, an influx of youths in agriculture post-COVID-19 will see an immediate yield in the up share of the sector. Growth in the agro sector will ultimately lead to significant yield in other sectors concurrently, Ultimately driving growth in the economy at large, looking inwards to agriculture and encouraging participation post-COVID-19 can and will ultimately lead to a new phase of life, agriculture done properly will enhance tourism, health, sports, finance and more. From issues tackling unemployment and inadequacies within the sector to topical issues on risks and benefits in the value chain, there is a section for everyone in this piece.