Alberto scored one of the greatest goals in World Cup history in the 1970 final against Italy, leading Brazil to a 4-1 victory.
Brazilian football legend Carlos Alberto, who captained the side to World Cup glory in 1970, has died.
The 72-year-old sports star suffered a heart attack and died in his hometown of Rio de Janeiro on Tuesday.
During a playing career spanning 19 years, the right-back played in both Brazil and the United States, and was inducted into the Football Hall of Fame in both countries.
He spent the majority of his footballing years at Brazilian club Santos, where he played with Pele.
In a statement released following news of his death, the club said he had etched his name in its history and declared three days of mourning.
"He played 445 matches and scored 40 goals from 1965-1975, and is considered the best right-back in the history of Praiano Alvinegro," the club said.
Alberto scored one of the most renowned goals in World Cup history in the 1970 final against Italy, which Brazil won 4-1.
He also boasted an extensive managerial career, at 16 different clubs at both domestic and international level.
His last coaching position was with Azerbaijan, before becoming a commentator on Brazilian channel SporTV.
He appeared on a show on Monday night, just hours before his death.
Football clubs have led the tribute on social media.
A tweet from former club New York Cosmos said: "We're deeply saddened by the loss of Carlos Alberto, a legendary player and wonderful person.
"He'll always remain part of the Cosmos family."
Carlos Alberto smiles as he holds the Jules Rimet trophy after 1970 World Cup win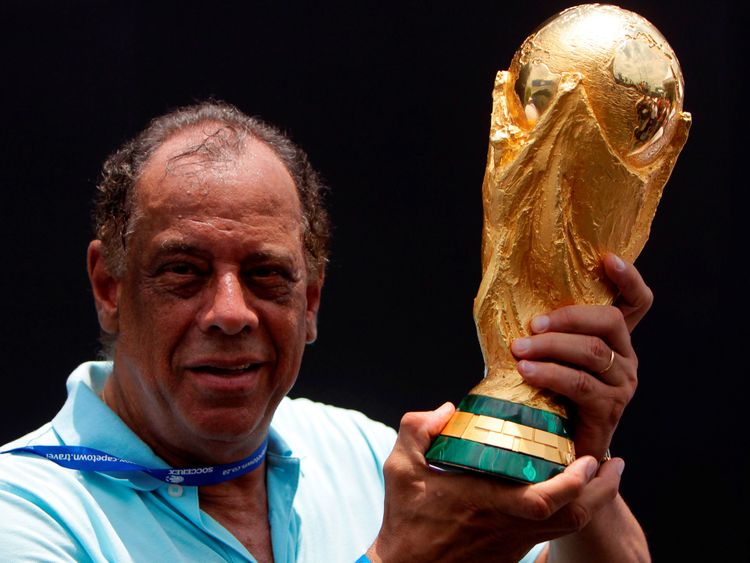 Holding the 2014 World Cup trophy during its unveiling ceremony in Rio